Ready for a river run? Some forest exploring?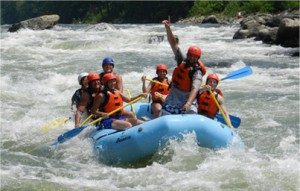 The woods, rivers and mountains of West Virginia have a lot to offer, whether you crave the thrill of whitewater rafting or a peaceful horseback ride that takes you to stunning mountain
views at our Stables at Snowshoe Mountain Resort. Whichever type of adventure you choose, New & Gauley River Adventures offer you and your family exciting outdoor fun set against a backdrop of the best of West Virginia's natural beauty.
We offer whitewater rafting adventures on the New and Gauley Rivers, with options ranging from Mild to Wild rafting trips that are suitable for travelers of all ages, including families, youth groups, and hard core thrill seekers. We have mild whitewater trips ranging from class I to III rapids for soft adventure on Upper New River, to class III to V rapids for the thrill seekers looking to peg their thrill meter on Lower New River or Lower Gauley, to our wildest trip — the legendary Upper Gauley River.
Horseback riding is another great outdoor adventure we offer. Any time of the year, you can take a horseback ride of 1, 2, 3 or 4 hours in duration, with the 2-hour ride being our most popular option, plus overnight trips as well. You can choose a time suitable from early morning to late evening, including "Sunset Rides" that take you to the top of a mountain in time for a spectacular sunset experience. And in the winter, taking in the mountain scenery from horseback can't be beat! We offer horse drawn sleigh rides along with our hourly rides, plus skiing and and snowboarding here at Snowshoe Mountain Resort.
If you'd rather spend a day fishing than doing anything else, New & Gauley can help with that too. We offer 1-day or overnight fishing trips on the New River, which is known to be one of the premier rivers for smallmouth bass in the Eastern US.
For those who want to hit the forest trails and see West Virginia's wilder side by horse but also enjoy some time on the water, we offer our "Saddle and Paddle" package that includes a three hour guided mountain trail ride, a full day of rafting on the New River, camping and meals.
All year round, New & Gauley Adventures has fun and exciting activities to offer. Come experience West Virginia's
Here are some of our favorite outdoor activities (we think you'll like them, too):
Have something else in mind? There's more recreation to explore. Let us know, and we'll work out your adventure.
So, where we going?